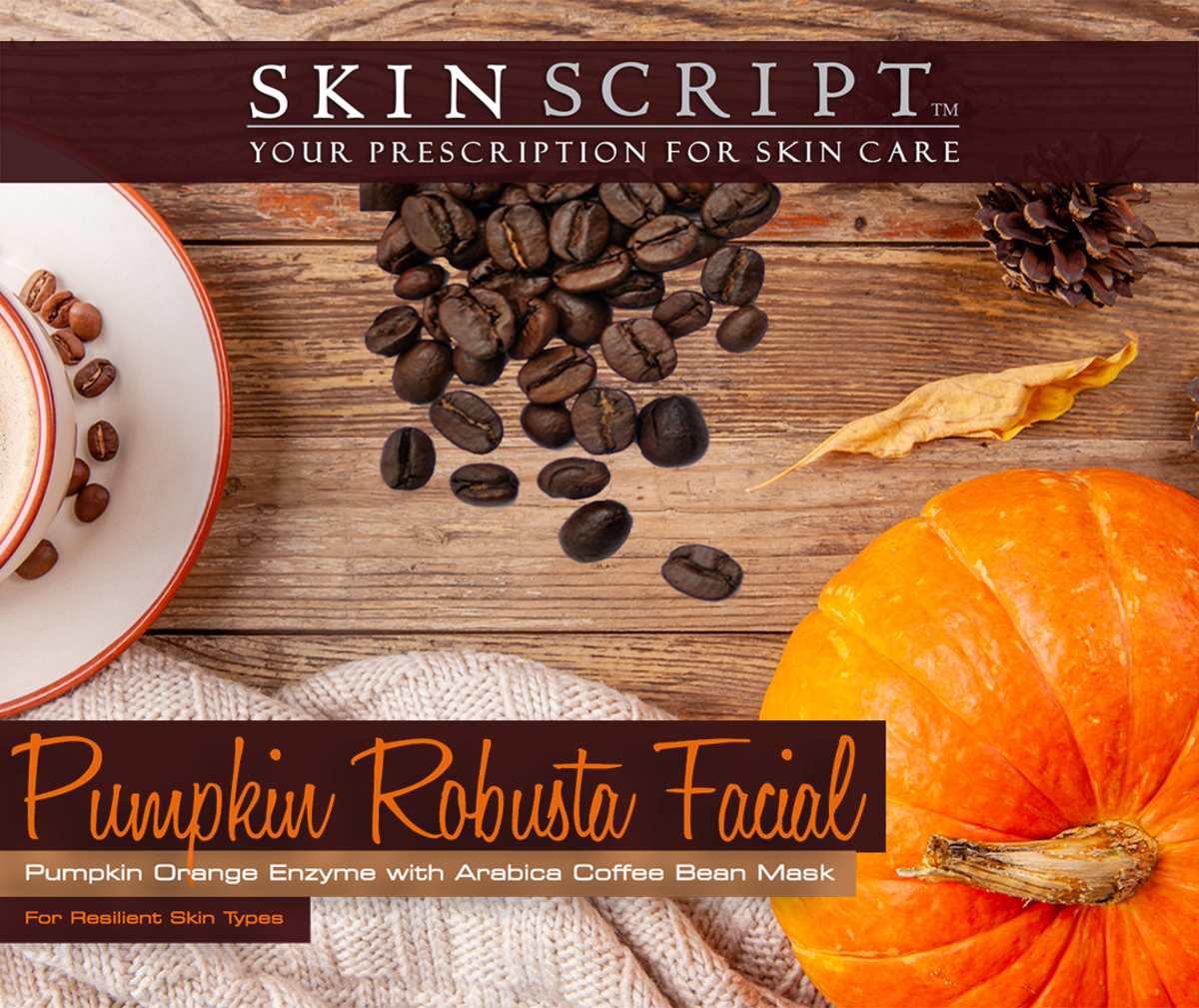 Pumpkin Robusto Facial - 60 minutes - $65 member/$80 nonmember
Pumpkin and coffee are sure to create a relaxing facial yet exfoliate and nourish in a robusto manner!!!! Watch out, the pumpkin enzyme is strong! Coffee and caffeine are antioxidants to protect and stimulate the skin, but the new ingredient Happybelle-PE will keep the skin refreshed and glowing with a pro-endorphin complex that relaxes the senses to keep the skin happy. The Chaste tree provides berries found in Happybelle-PE that creates a sensation of well-being. Get gorgeous for fall! The Pumpkin-Orange enzyme packed with vitamins A and C, this enzyme will exfoliate and reduce oil while you enjoy the wonderful smell of pumpkin and orange. At 15% pumpkin, this enzyme dissolves dead skin while orange provides a beautiful glow to the skin. Because this enzyme is strong, we cut it with the Arabica Coffee Bean mask to make it tolerable for all skin types. The Arabica Coffee Bean mask which has coffee and Happybelle-PE as the active ingredients which stimulate microcirculation for a flushing of toxins from the skin. Happybelle-PE leave the skin relaxed and happy! The Pumpkin Robusto Facial begins with two botanical cleanses, an enzyme exfoliation with Pumpkin/Orange, a relaxing foot massage while the enzyme lifts dead skin, extractions if necessary, face, neck, shoulder and décolleté massage with nourishing desert botanical organic jojoba oil, Arabica Coffee Bean treatment mask with a hand massage and moisturizer/SPF. Regular price $90.
In order to receive the September special price, appointment must be booked for September 1 - September 30. Discount will be applied during appointment checkout.