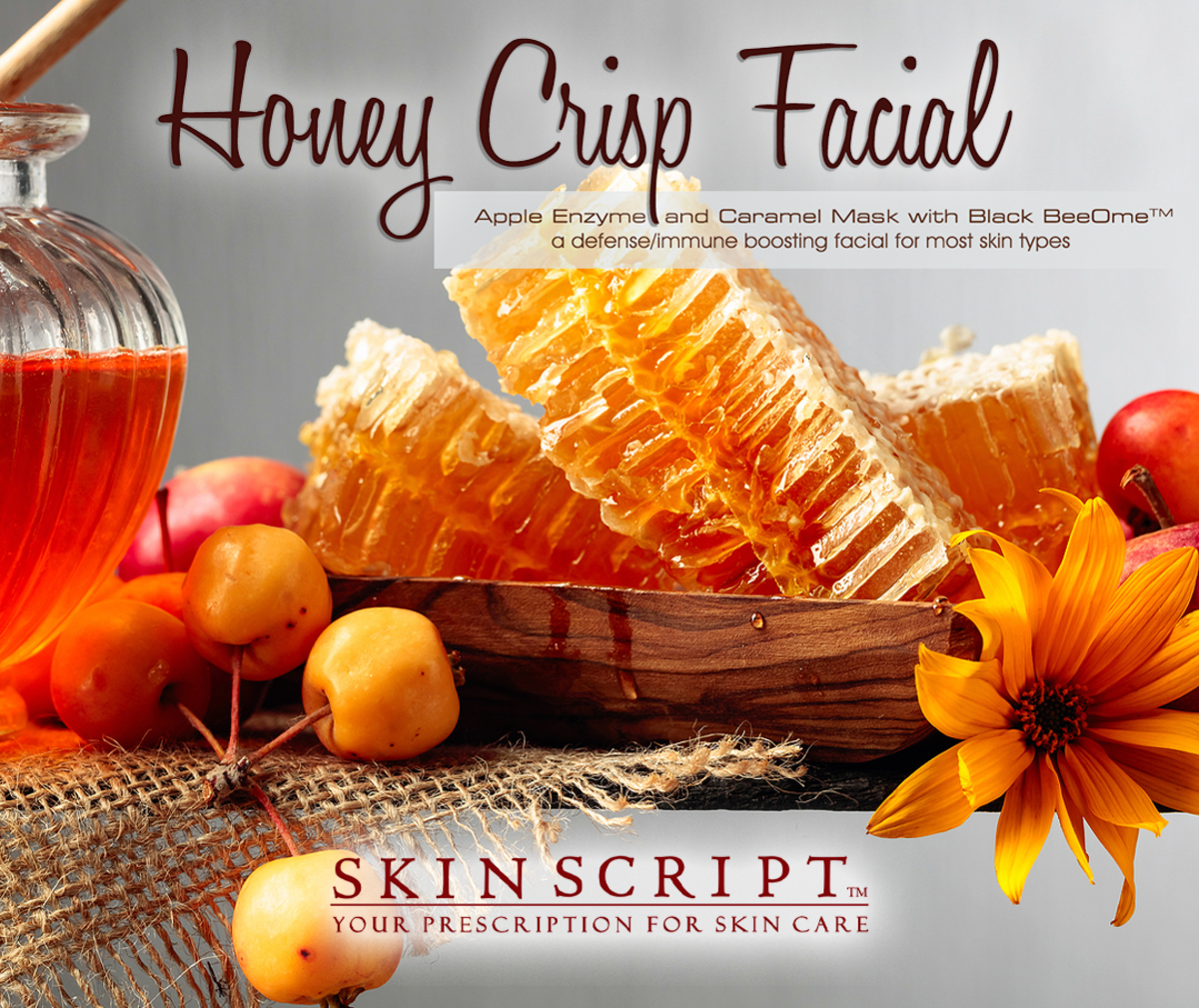 Honey Crisp Facial - 60 minutes - $65 member/$80 nonmember
Enjoy this natural defense/immune boosting facial while relaxing into the delightful aromas of apple and caramel. The Honey Crisp facial captures the antioxidant benefits of apples and the microflora benefits of Black BeeOme™. The skin's microbiome is a complex community of microorganisms that function together with the immune system to defend against pathogens and maintain skin health. The Black BeeOme™ honey ferment helps to restore the skin's natural microflora. Clinical studies have shown that Black BeeOme™ promotes faster regeneration of the skin flora and restoration of the skin barrier. In addition, fermented black bee honey reduces sebum production and improves the uniformity of oily and uneven facial skin. This facial is designed for the recovery of the skin's microflora after stress which results in a healthy, exceptionally clear and pure skin. The Apple Orchard enzyme, which is gentle, enzyme is meant to be a mild exfoliant used in a nourishing anti-aging facial. Apples are high in Vitamin C and contain potent antioxidants as well as naturally-occurring malic acid (AHA) to assist in exfoliation. It can be warming to the skin and can cause flushing. The Golden Caramel mask contains nourishing Black BeeOme™ which restores the skin's natural microflora, improves the skin's natural protective barrier and provides significant hydration. It also reduces sebum production for a matte/purified skin feel. The Honey Crisp Facial begins with two botanical cleanses, an enzyme exfoliation with Apple Orchard, a relaxing foot massage while the enzyme lifts dead skin, extractions if necessary, face, neck, shoulder and décolleté massage with nourishing desert botanical organic jojoba oil, Golden Caramel treatment mask with a hand massage and moisturizer/SPF. Not for sensitive or rosacea skin. Regular price $90.
In order to receive the September Special price, appointment must be booked for September 1 - September 30. Discount will be applied during appointment checkout.