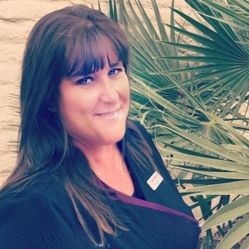 Kiera L Stroup, LE, LMT, CA, RMT, CHt, Owner & Founder
Kiera is a Licensed Esthetician, Licensed Massage Therapist, Certified Clinical Aromatherapist, Reiki Master Teacher, Reflexologist, Certified Hypnotherapist, owner and founder of Sonoran Serenity Spa & Holistic Wellness Center. A native New Yorker, it has always been her desire to live in Arizona. After receiving her Bachelors degree from Manhattan College, she lived in Connecticut, California, and finally settled in Memphis, Tennessee, where she worked in Information Technology at the same company for 16 years. During her tenure, Kiera received her MBA from the University of Memphis. After deciding to pursue her dream, Kiera left a 27 year corporate IT career, relocated to Tempe and enrolled at SWINA, Southwest Institute of Natural Aesthetics where she completed her esthetician training. Kiera is also graduate of SWIHA, Southwest Institute of Healing Arts as a Master Massage practitioner. In 2017, she re-enrolled at SWIHA and completed her Certificate in Aromatherapy.
A life-long learner, as of May 2018, Kiera has re-enrolled again at SWIHA and is now working on her Associate of Occupational Studies degree in Mind Body Transformational Psychology with a concentration in Holistic Nutrition, Clinical Hypnotherapy, Reflexology and Reiki. Kiera continues to add new and exciting treatments and services to the menu as her modalities expand.