Spa is Temporarily Closed due to COVID-19
Important Announcement: We are reopening June 1! We have some new procedures so please review our COVID-19 Spa Procedures under the FAQ tab.
As of Monday, March 30, we will be closed temporarily. This was a difficult decision to make, but in the interest of public safety and social distancing, we feel this is the best action. The exception to this is hypnotherapy and Reiki, which we can do remotely and you can book online. If you need to reach us, the best way is to email us at info@sonoranserenityspa.com . We will publish updates regularly to our website, so please keep checking. You can also follow us on Facebook or Instagram. Thank you for your loyalty and we will be updating this announcement as needed.
We now have a limited supply of aromatherapy hand sanitizer, disinfecting room spay and anti-viral aromatherapy blend in our online store and at the spa. Please visit our online store to purchase. Please limit your purchase to 1 per item.
May is Skin Cancer Awareness Month. Due to the spa closure, we are offering a 20% discount on all sunscreen and related products purchased online during May. Check out our Promotions page for more info.
A Little Bit About Sonoran Serenity Spa & Holistic Wellness Center
Want a little insight into our spa and wellness center? Here is an interview with Kiera Stroup, owner and founder on Lightworkers Today. Learn about the beginnings of S3HWC and what we offer. Kiera also explains her mission and what makes us different from other day spas.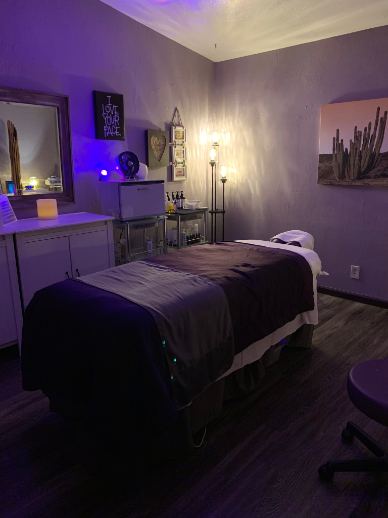 Who we are
At Sonoran Serenity Spa & Holistic Wellness Center, we invite you to enjoy the best in self-care for your entire being: face, mind, body and spirit. Whether you crave the tranquility and pampering of a luxurious facial or relaxing massage or the rejuvenation and deep healing of a corrective facial, therapeutic massage, or one of our integrative wellness options, we have treatments to meet your needs.
It is our mission to promote balance, both inside and out, by providing a peaceful, relaxing, safe and inclusive environment where you can become your most radiant, beautiful self.
Our offerings include:
Relaxing and therapeutic massage
Corrective, rejuvenating or relaxing facials
Dermaplaning exfoliation
Chemical peels
Face waxing
Brow tinting
Body polishes and scrubs
Aromatherapy
Reiki
Hypnotherapy
Featured Treatments and Services
Happenings
Keep up with us by following our social media!
Join our Email List!
Stay on top of what's happening at the spa and be the first to hear about our specials!
Monday:

10am

–

6pm

Tuesday:

9am

–

6pm

Wednesday:

9am

–

8pm

Thursday:

9am

–

8pm

Friday:

9am

–

8pm

Saturday:

9am

–

6pm

Sunday:

11am

–

5pm
By Appointment Only
Privacy Policy
Your privacy is very important to us. Sonoran Serenity Spa & Holistic Wellness Center does not distribute, share, trade, or sell any information gathered from clients at any time for any reason without direct written permission from said individual. All information is kept strictly confidential.